Not Ready to Call Us Just Yet?

We understand. We believe that every business owner should be armed with the basic knowledge of how to protect one of their company's most valuable assets, your data and computer systems.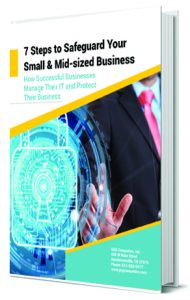 Our Guide — 7 Steps to Safeguard Your Small & Mid-size Business – How Successful Businesses Manage Their IT — outlines in non-technical terms the common mistakes businesses make with their computer network that cost them thousands in lost sales and productivity, and could put them out of business. It also details the 7 necessary steps to safeguard your business that you should have in place now.
This guide also includes a Technology Self-assessment Checklist. You don't just assume that your company's financials are flawless or your employees are performing perfectly, right? Your IT systems are just as critical for the health of your business and should not be overlooked.
Simply fill out the form to have immediate access to the guide.
We Are Proud To Partner With The Best In The Industry