There are various ways to get the IT Support your business needs.
We believe that every business is unique and a solution that would work for one company would not be a good fit for another.
So unlike most IT Support companies, that only provide support one or maybe two ways if your lucky and want to make your business conform to their "Managed Services" way of doing business, usually in a 3 to 5 year contract – we do things a bit differently.
We look at your issues, where you are now and where you want to go, then based on your goals, objectives and budget we work with you to give you the customized support that your business needs. We also never lock you into a multi-year contract. We believe that once you experience the service you get with us, you'll want to stay with us. That's why we have a 98% client retention rate, because we deliver what we promise – guaranteed.
Our Perfect-Fit™ Support – our proven process for the best IT support, is your businesses key to less stress, growth and success.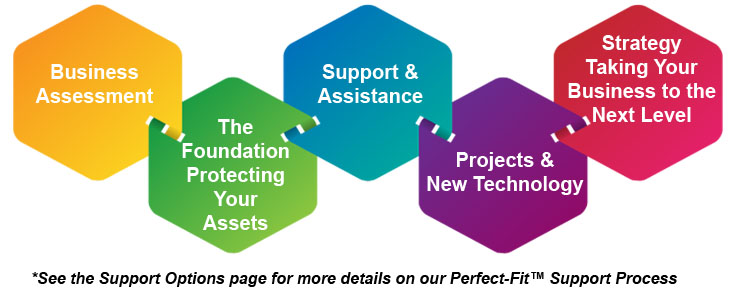 For more details on our Perfect-Fit™ Support and how we do things differently, please visit the Support Options page.
Or if you're ready to talk to us now, please call us at: 615-826-0017.